Photochromic lenses continue to grow in popularity and these lenses represent an excellent profit potential for eyecare professionals by providing all-day indoor and outdoor comfort. Here are five ways you can promote photochromic lenses in your office.
Doctor Recommendation
Ophthalmic consultants will say that a doctor's recommendation is arguably the most powerful purchasing motivator an office can employ. Sometimes called "the power of the coat" (a tongue-in-cheek reference to the white lab coat many doctors used to routinely wear), recommendations by doctors for specific products indicate to patients that the healthcare professional they have visited feels a particular product is exactly what they need in order to see better, be more comfortable, relieve certain symptoms, and more. Similar to other medical doctors and their patients, the recommendations of eyecare products by eye doctors are usually well accepted by patients and many even expect their doctor to make these product recommendations.
Armed with the doctor's recommendation(s), the optical technician in the dispensary can now spend her time explaining photochromic lenses instead of trying to convince patients that they really need them. This is a huge advantage for dispensing personnel and increases the efficiency of the entire office. If patients exercise their right to take their prescription to another eyewear provider, the doctor's recommendation (hopefully in written form) will now alert the dispensing optician that the patient's doctor recommended a particular product.
Personal Testimonial
Nothing speaks as loudly about any product than a testimonial, but in order to provide a testimonial about the merits of photochromic lenses, you have to own a pair yourself. That means the first step in this task is to get and wear a pair of photochromics. Over a one-week period, make notes as to the benefits discovered with them, how fast they darken and lighten, how well they perform under various lighting conditions, how comfortable your eyes are, how they adapt to changing lighting conditions, etc. These are the kinds of things potential buyers will want to know. Armed with personal experiences from wearing the lenses, you'll be able to explain these situations to them, and more importantly, be able to sincerely recommend photochromics to patients.
Health Benefits
Lens literature is full of information about the benefits of photochromics for eyeglass wearers. A good deal of that information discusses how these lenses block 100% of all harmful ultraviolet (UV) A and UVB rays that can enter the eyes and cause short and long-term ocular damage such as photokeratitis, cataracts, penqueculum and pterygium, macular degeneration, skin cancer around the eyes, and other maladies. Since photochromic lenses use UV to create their darkening effect, it's logical that these lenses offer good protection against this radiation. Because children are substantially more susceptible to absorbing UV radiation than adults, it's particularly crucial they have lenses that can absorb 100% UV radiation.
Other health benefits of photochromic lenses include eliminating glare, which can wash out visual detail. And with the introduction of Transitions Optical, Inc.'s new Transitions XTRActive lenses, you can now offer patients who spend a lot of time in sunny conditions the darkest, everyday Transitions lenses available.
Offer It To Everyone
Remember, traditional photochromics are designed as replacements for a patient's general use glasses, not sunglasses. This means that every patient is a potential candidate, which is why it is essential to offer it to everyone.
Another point is to not offer it as the last lens option you mention. In fact, suggest it as the first choice. Mentioning it first indicates to the patient that this is the most important suggestion you are making—that's why it's first. He'll pay more attention to it and understand its significance more.
Meeting a wide range of patient needs, Vision-Ease Lens recently expanded its offering for LifeRx light-responsive lenses with a D35 bifocal. According to the company, in addition to the only photochromic polycarbonate D35 bifocal, LifeRx lenses are also available in 7×28 trifocal, D28 bifocal, Illumina, and Outlook progressive lenses, Aspheric SFSV, and Spherical SFSV.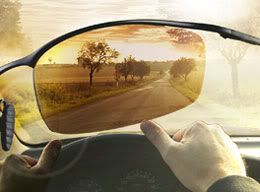 If you find the adaptive optics of photochromic lenses appealing for general use, remember that patients can also receive the same benefits in sunwear lenses. For example, Specialty Lens Corp.'s iRx Xperio Transitions SOLFX offers polarized, photochromic, glare-fighting and adaptive comfort outdoors. Essilor of America, Inc.'s DEFINITY FAIRWAY Transitions SOLFX lenses are a perfect multifocal for golfing. Oakley, Inc., Wiley X Eyewear, and other sunwear suppliers have outdoor photochromic (and polarized) lenses too. Transitions XTRActive lenses let in approximately 50% of the light inside a car, which will be very adequate for many patients. Younger Optics' Drivewear Transitions SOLFX is also a great photochromic polarized lens for driving. The convenience of not worrying where their sunglasses are is worth the investment in these lenses alone.
Package It
Bundling is a retail strategy right out of the playbook of the big boys. Packages are a very successful way to market any product, just look at McDonalds and how it changed the way we order food—you don't order by single products, you order by number. "I'll take number 3," which just got you a Big Mac, a large order of fries, and a large drink, all by speaking only four words. You also received a discount on the price of your hamburger package because it was purchased in a bundle.
Many packages can be created. For example, you might offer a basic package that includes polycarbonate with a photochromic and an anti-reflective treatment as a basic package and take 15% off the total price. Try the same thing with 1.67 as the lens material to get the ultimate in slenderizing.
The strategies above are easy to implement and they work; put them to use and you'll notice a positive move up in your recommendation closure rate.
by Kat Leek-Tedeschi, LDO
totallyoptical.com