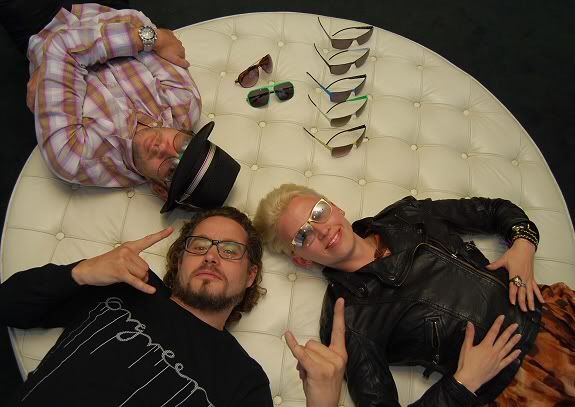 Henrick Orgreen's "Eureka!" moment came at a particularly dark stage of his career. After selling sunglasses in a country with more wet days than dry, Henrick and his two business partners, suddenly saw the light: Orgreen would be much more successful if they sold a product that wasn't weather-dependant and got into optics.
Ten years later, Danish company Orgreen Optics is flying high at the top of the optical design ladder, with their frames now sold in 40 countries worldwide. But it wasn't always such a happy tale…
After distributing Arnette sunnies in Denmark for many years, Henrick Orgreen realised he needed to go out on his own and start his own range. He was over the mass consumerism of the popular sunglass brands and wanted to create something more "art-focused".
He spoke to one of his friends, an optician, and asked him what he thought of the idea: 'Henrick you've got to do optical!' he said. I said 'no way, forget it!' But he said it again, 'consider doing optical, just consider it', I started thinking… hmmm… I don't want to do optical, but maybe I should design sunglasses.
From that point "the idea started to grow in my head. I took some time to think about it and then decided this could be a very interesting project."
Henrick threw himself into designing sunglasses "primarily for the style-conscious man". It would be another five years, and a great deal of grief later, before he took the advice from his optician friend to design optical.
The Partnership
It was a rare sunny day in Copenhagen when Henrick managed to convince another friend of his, designer Tobias Wandrup, to join him in his mission to create art-focused sunglasses. In a moment of brilliance or delusion, or maybe the sunshine had put him in a particularly good mood, his friend became just as hell-bent on the idea.
"Tobias was educated as an industrial designer… I was thinking to myself; 'I have a lot of good ideas and he was probably the man who could help me put that together as a design team.' I was looking for a partner who was the same as me, who would work with different aspects of design and I thought we would compliment each other."
Gregers Fastrup who worked with Henrick at Arnette became the final link in the company chain.
"We approached Gregers and said 'we have this crazy idea. We haven't started yet but we want you in on it'. He said immediately, 'I'm game, I'm ready, and I'm in!'"
That was the start of Orgreen.
Shaky Beginnings
When the team started, they didn't have any experience beyond the ideas in their heads. Henrick's optician friend helped by recommending a factory in Austria that could manufacture injected and acetate frames. But they needed money.
"If you're ambitious from the very beginning you want to make high class frames. But that means that from the beginning you have to have money. So I sold my apartment and not too long after, because we used a lot of money on developing the frames, we needed more money. So logically, you go to the bank and borrow some. But once you are tied up with the bank and you don't have any more money from your apartment, you ask your friends and family because you need the capital to continue."
"In order to keep developing as a company and as a brand, and especially because we had such high standards, it kept costing us more and more money… but we didn't have the sales."
Henrick then winces as he tells me: "I had to borrow money from my friends, I had to borrow money from my family… and at one stage, about three to four years into the company, I think I owed the equivalent of AUD$870,000, and we weren't doing well."
"Looking back, I realise now, that at the time we had no clue about the risk we had taken. When we first made our business plan we thought in five years we'd be a lot higher up than we ended up being… it was a lot of the money straight out the window."
It was a huge risk and although beautiful, the brand wasn't taking off as much as the trio had hoped and the company was losing money… fast. As sales continued to disappoint and they struggled to pay the bills, Orgreen Optics was in need of an immediate sea change.
"After three and a half years, we could see we had a problem – in winter, we didn't sell sunglasses. Winter was like a big black hole eating our money."
It was a huge problem and Henrick reached the point where he thought they should close the business down. "We couldn't survive; we'd used all the money. But because my signature was on all the papers, I had to continue. If I stopped I would have no chance of going back."
"Initially, we didn't want to do optical because we wanted to be a 100 percent hardcore sunglass company… but I started processing what was happening. I think when you're under pressure you actually get very creative. And we were under a lot of pressure!"
Then, his friend's advice rang again in his head: 'Henrick you've got to do optical'. This time he got the message.


A New Direction
Some Orgreen Optics devotees, in love with the innovative designs, were already popping out the dark lenses of their sunglasses and getting their prescriptions filled in the frames.
"We developed an optical collection of 10 designs – seven acetates and three combination frames (half acetate, half steel)."
Orgreens' first optical collection sold immediately and ironically, it was in winter!
"By designing those 10 frames we realised we had the same idealism we had when we were designing sunglasses, but we also had a new motivation and were something fresh. It wasn't until a few years later that we had success."
"A friend of mine in London was the designer for Ted Baker eyewear and he told me Japan was the best place to go for design. We wanted to design something for a younger, cooler and more unique market. That was our introduction into the Japanese market. We started working our designs with sheet titanium, and that was the change of our story big time. We made a series called the 'Cut Series'. Today, this is one of the most copied series on the market."
"We started working with open temples and two tone colours and when we did that… it exploded. Holes in the temples, two tone colours, high quality, high design… that, turned it around for us."
They may have learnt the hard way, but Orgreen were doing things right at long last. The next step was to expand the brand to appeal to a female audience. Finally the brand was complete and the verdict was in: women loved the glasses too.
"We started having a lot of success… but our real success came the day we finally paid back our friends and our families and the bank. That was my best day in a long, long time."
"I was no longer 'obliged' to be in the eyewear business. From that moment on I could just be there because my heart was in it."
by Laura Binnie
mivision online