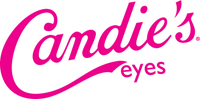 Viva International Group presents six new exciting CANDIE'S® Eyewear ophthalmic styles for Spring 2011. The new releases, consisting of four women and two youth styles, feature temple techniques ranging from high-definition prints to intricate metal accents, offered in a variety of vibrant colors and eye-catching patterns.
"We're excited about this season's new styles, which include an array of spirited and fresh looks," says Roxanne Galari, Viva's general manager for the CANDIE'S® brand. "The collection captures the fun and flirty style of the CANDIE'S® girl, supported by the brand's exciting new campaign featuring Vanessa Hudgens."
Key styles in the 2011 Spring collection include C Chelsea and C Charlie, which reflect the chic, yet playful side of today's CANDIE'S® girl. Both styles feature handmade acetate fronts in a rich blend of horn colorations and metal temples decorated with sculpted filigree hearts, adorned with crystals. C Charlie features a modified rectangular shape, while C Chelsea features a softer modified oval shape.
Inspired by the 1980's, styles C Andrea and C Aubrey feature temples emblazoned with a high-definition zebra pattern in vibrant colors and decorated with a CANDIE'S® metal logo plaque. C Andrea features a handmade acetate front in a modified oval shape and C Aubrey features a flat metal front in a soft rectangular shape.
Styles C Pixie and C Pennie, which feature smaller eye sizes, deliver the perfect fit for a trendy teen, as well as a petite adult. These handmade acetate frames are decorated with a lattice heart pattern, using a high-definition temple technique, and are available in fun colors of brown, plum, gray, burgundy and black.
The Spring campaign features High School Musical star Vanessa Hudgens, who follows in the heels of Britney Spears and Fergie, as the new face for CANDIE'S®. Along with the new campaign images, new merchandising materials, available this spring, will consist of a three-piece display, a twelve-piece display, a mirror and a logo plaque.
The new releases debuted at Vision Expo East, with styles C Chelsea, C Charlie, C Andrea and C Aubrey all offered at a dispensary price of $49.95, and styles C Pixie and C Pennie offered at a dispensary price of $44.95. For more information please call 800-345-VIVA or visit vivagroup.com.