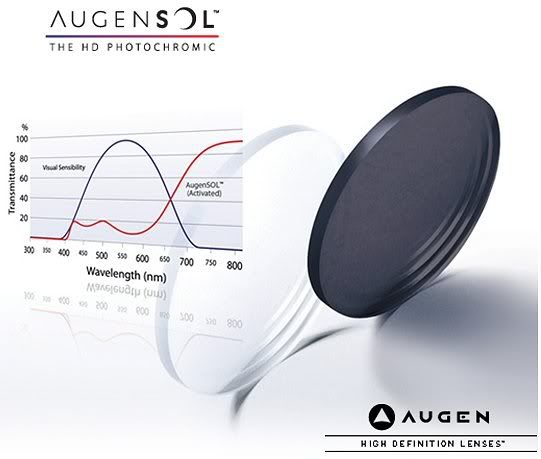 Introducing AugenSOL Photochromic Lenses, a unique combination of Augen High Definition lens design technology and the most advanced photochromic hard resin optical material available today.
Now you can offer every patient the benefits of patented Augen High Definition optics in an affordable, high-performance photochromic material.
Gets dark exceptionally fast outdoors – nearly sunlens dark in just 12 seconds
Provides 100% UVA/UVB protection on both front and back lens surfaces
Extra-dark tint rivals the light protection offered by sunlenses
Fades quickly to barely noticeable tint indoors for clear, translucent lenses
Photochromic Material Characteristics
AugenSOL is a 1.50 index optical lens material with photochromic cells embedded throughout the material resin. As the surface of the lens wears thin, new photochromic cells are activated to replace those that might be lost through cleaning or everyday wear, giving wearers long-lasting, reliable photochromic performance.
AugenSOL Photochromic Lenses combine the excellent optical characteristics of 1.50 hard resin with the superior protection of proven light-sensitive and UV-filtering photochromic technology, including 100% blockage of UVA/UVB rays on both front and back lens surfaces.
The optical performance of AugenSOL photochromic material is comparable to 1.50 hard resin. However, its low specific gravity makes AugenSOL material lighter weight than hard resin, resulting in more comfortable lenses.
Clear, Dark, Fast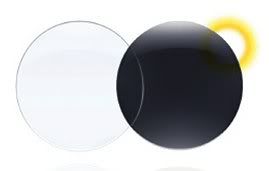 AugenSOL Photochromic Lenses quickly change from clear to dark outdoors in just 12 seconds, and fade quickly from dark to clear indoors in approximately two minutes.
Extremely fast activation with no hysteresis (lag effect) ensures color stability in both activated and fading states.
AugenSOL Photochromic Lenses exhibit a uniform gray tone throughout the activation process, with consistency across the lens and from lens to lens. Because AugenSOL is a fused material with photochromic cells throughout the lens, a darker lens color is perceived in the activated state – nearly as dark as a sun lens.
Availability
Augen High Definition® TRINITY® 13/17 Progressive
Augen High Definition® HD Single Vision
BiFocal Flat-Top 28