Transitions Optical, Inc. announced its new IndyCar sponsorship of Penske Racing's Ryan Briscoe. Team Penske's #6 car was shown in its new livery for the first time at the June 19th Milwaukee Mile 225.
"Our adaptive lens technology is a perfect match for the changing light conditions drivers – and fans – experience during an IndyCar race," said Brian Hauser, general manager, U.S. and Canada, Transitions Optical. "With margins of victory in the tenths of a second, sharp, clear vision can be the difference between a win and second place."
Transitions Optical is the worldwide leader in photochromic technology, developing products which automatically adapt level of darkness as light changes, providing visual comfort and UV protection in all light conditions. The company offers a family of products, including everyday prescription lenses which are designed to be worn indoors and darken outdoors, and prescription and non-prescription performance sun lenses and face shields for outdoor activities.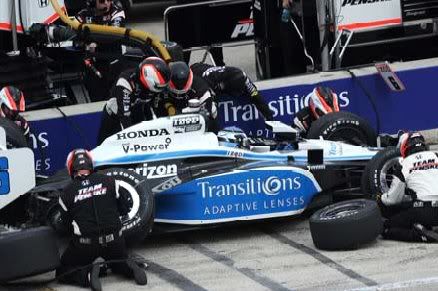 On the racetrack, the Penske team is currently testing Transitions® SOLFX™ face shields – non-prescription shields that use advanced photochromic technology which automatically shifts in changing light conditions to provide drivers comfort and enhanced visual performance.
Off the track, Ryan Briscoe is wearing Transitions® XTRActive™ lenses, everyday prescription lenses which change from a comfortable tint indoors to very dark outdoors, and darken moderately behind the windshield of a car. Briscoe is also wearing Drivewear® Transitions® SOLFX™ sun lenses, designed specifically to enhance visual performance while driving. These lenses change color and degree of darkness behind the windshield to improve contrast and comfort, reduce glare and excess visible light, and optimize the driving experience.
"Already, I've noticed a difference in the quality of my vision when wearing the Transitions SOLFX face shield," said Helio Castroneves. "The automatically-adjusting shield literally does the work for my eyes – making it easier for me to concentrate on other aspects of my race. It's such innovative technology that I'm excited to be wearing Drivewear® Transitions® SOLFX™ sun lenses off the track as well."
"We've already successfully shown how photochromic technology can be applied to sports like golf and cycling," added Hauser, referencing the company's title sponsorship of the Transitions Championship®, an official PGA TOUR® event and sponsorship of Team Garmin-Cervélo, a professional cycling team. "Improved visual performance can help provide an edge in personal performance."
Dr. Larry Lampert, sports vision expert and optometric consultant to Transitions Optical, has worked extensively with professional athletes from the PGA TOUR, the LPGA, NFL and MLB. "I can tell you that understanding the connection between vision and sports can positively impact your skills and greatly help improve your game," he said. "Thinking about your eyes is especially important when participating in outdoor activities and sports. Adaptive lenses that adjust to changing light conditions outdoors while blocking 100 percent of harmful UV rays help protect the health of your eyes for a lifetime."
Following the June 19th Milwaukee Mile 225, Transitions Optical's newest sponsorship has generated coverage within high-profile online and print consumer auto racing media outlets, including WhoWon.com, Auto Racing Daily, AutoRacing1.com and Motorsport.com.