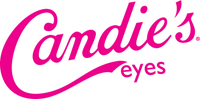 Viva International Group introduces eight tantalizing new ophthalmic styles to the CANDIE'S® Eyewear collection this spring. The new styles reflect the trendsetting design elements featured in CANDIE'S apparel and accessories. Exciting trends, including floral accents, animal prints, filigree detailing and stud treatments are showcased throughout the collection, to deliver a cohesive blend of fashion and style for today's CANDIE'S girl.
Models C Abigail and C Adele reflect the allure of Vintage Glamour, one of the key trends in this season's collection. The temples of this duo feature an intricate carved effect adorned by small crystal stones and the CANDIE'S signature logo plaque. Each style is finished in jewel tones, including plum over cream, burgundy over pink and black over berry with berry temples. Both crafted in handmade acetate, model C Abigail features a modified rectangle front, while C Adele features a modified cat-eye front.
Milled filigree details and studs accent the temples of models C Hailey and C Harlow, two handmade acetate frames, highlighting the collection's Guns n' Roses trend. The temple's elaborate floral pattern reveals a pop of color, adding a mix of chic sophistication. Rich colors of burgundy, plum, brown and black compliment the modified rectangle front of C Hailey and modified oval front of C Harlow.
Structured silhouettes and metal hardware detailing accentuate the styling of models C Lauren and C Lola. The collection's Major Flirt trend is inspired by the camouflage print patterns and dynamic color combinations featured in some of the key styles from the CANDIE'S clothing and accessories collection. These design elements are re-interpreted in the duo's temple treatments, including intricately milled camo patterns that appear on each handmade acetate temple. Model C Lauren features a full flat metal front and model C Lola has a flat metal semi-rimless design.
Youthful colors, animal prints and urban chic are illustrated in the Welcome to the Jungle trend, featuring models C Paula and C Payton. Handmade acetate temples are offered in enticing patterns and color blends which reflect the adventurous lifestyle of today's CANDIE'S girl. A metal logo treatment completes the look of these fun temples. Model C Paula has a semi-rimless oval flat metal front and model C Payton is offered in a full rim rectangle flat metal front in satin finishes of black, brown, pink and plum.
Marketing materials consist of print advertising in optical trade and fashion publications featuring the brand's campaign images with Glee star, Lea Michele, the new face of CANDIE'S. The campaign titled, "Hangin' At Home" features Lea causing a stir in the kitchen, glamorously lounging by the pool and being playful, giving consumers a behind the scenes look at her everyday life at home. Along with the creative campaign images, merchandising materials consist of a three-piece display, a twelve-piece display, a mirror and a logo plaque. For more information please call 800-345-VIVA or visit vivagroup.com.