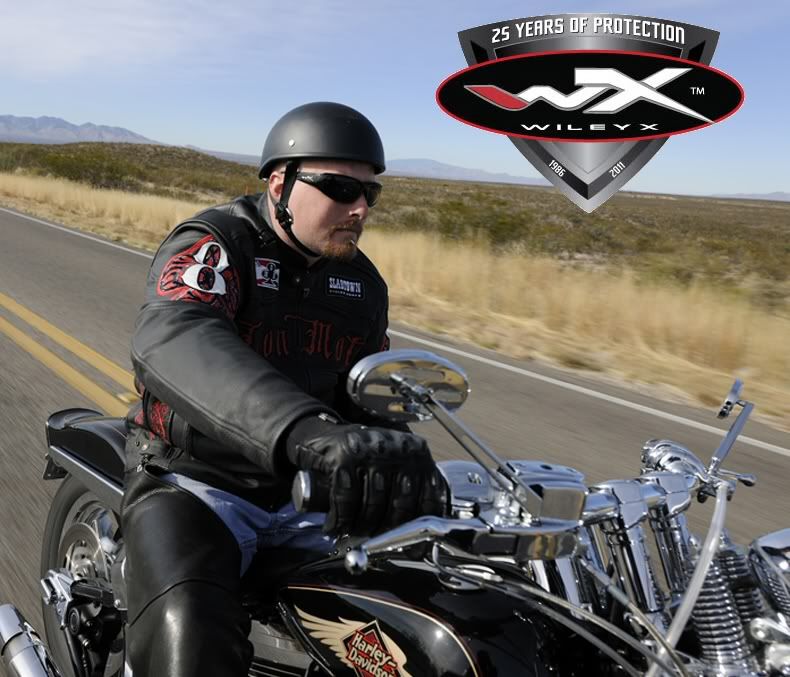 Wiley X Inc. has expanded its popular Rx-ready Climate Control™ series with the addition of the new WX Gravity — an ideal choice for motorcycle riders who love the thrill of the open highway. This new premium sunglass model is made to take anything the road and Mother Nature can throw at it, providing bikers with military-grade protection, clear vision and the comfort to enjoy all-day rides.
Climate Control models like the new WX Gravity feature Wiley X's patented, removable, soft foam Facial Cavity™ Seal that's designed to seal out wind, dust, debris and cold, making it an ideal choice for rolling across the open road in all kinds of conditions. By creating a safe, climate-controlled environment for the eyes, the new WX Gravity also helps prevents Dry Eye Syndrome, a common affliction for riders that can lead to discomfort and impaired vision.
The new WX Gravity features a wraparound style frame designed for medium to large head sizes, providing full coverage and excellent peripheral vision. Rubberized temples ensure a secure, yet comfortable fit that stays in place over rough roads and sharp turns. Bikers will especially appreciate WX Gravity model CCGRA05, combining attractive Gloss Black frames with LA™ Light Adjusting lenses that lighten or darken in response to changing UV light conditions.
Wiley X is known for protection, and the new WX Gravity delivers here, as well. Wiley X is the only premium sunglasses brand whose entire line meets the stringent ANSI Z87.1-2003 High Velocity and High Mass Impact Safety standards. The WX Gravity provides even greater protection for riders, meeting the updated GL-PD 10-12 MCEP Standard (superseding the MIL-PRF-31013 Ballistic Standard) for state-of-the-art eye protection in extreme conditions. Protection like this is a key reason Wiley X has long been a leading provider of premium protective eyewear to law enforcement and U.S. military units in action around the world.
Like many Wiley X eyewear styles, the new WX Gravity is also prescription ready — providing a "no compromises" solution for riders who require corrective lenses when they're on the road.
To learn more about the new Climate Control WX Gravity for motorcycle enthusiasts — or the company's full line of premium performance eyewear for every outdoor activity — visit Wiley X, Inc. at 7800 Patterson Pass Road, Livermore, CA 94550 • Telephone: (800) 776-7842 • Or visit online at www.wileyx.com.