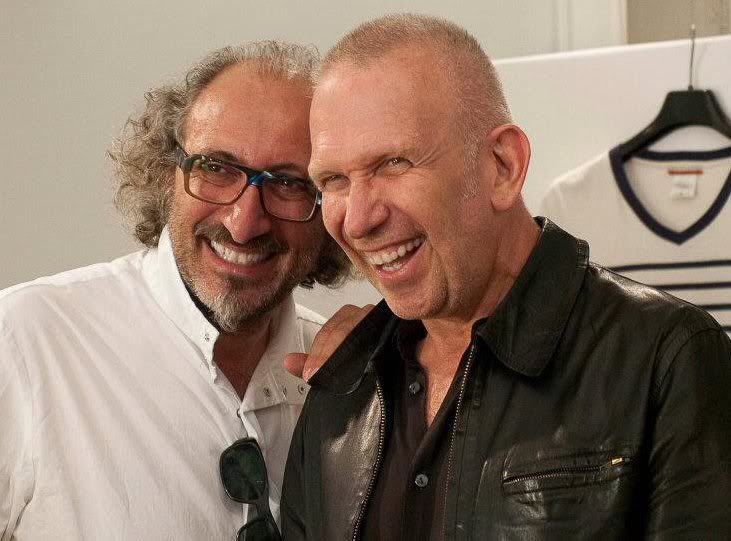 Alain Mikli International is thrilled to announce the launch of the first ever Jean Paul Gaultier by Mikli eyewear collection. The collection, created between two long-time friends, will launch in the U.S. market in January 2012.
The history of the partnership between Gaultier and Mikli began in 1978, when both designers founded their respective design houses. Both men soon found success and in October 1984, beneath the enchanted tents of the Louvre's "cour carrée" during Paris Fashion Week, these two iconoclasts were brought together when Gaultier was dressing and Mikli accessorizing; an instant bond was formed. After a more than twenty year friendship, the Paris tailor and the frame modelist have finally decided to create together with the result of that collaboration coming to fruition as the Jean Paul Gaultier by Mikli eyewear collection.
Jean Paul Gaultier was born in '52, and spent Thursdays with his grandmother in Arcueil. With her wardrobes and magazines full of women in netted stockings, his grandmother's apartment became his private university. When he was punished for having sketched a Folies Bergères dancer while in class, his friends applauded him: the drawing was brilliant. The punishment turned into a revelation: this is what his calling would be.
Alain Mikli was born in '55, in the Rhône region. His father was an orchestra conductor and his mother a seamstress who kept "the" luxury ready-to-wear boutique of Grenoble. He moved to Paris at the age of 12 and enrolled in the Fresnel Lycée, which specializes in optics. When the young ladies there complained that their glasses were crutches for the cross-eyed, Alain drew his first creations and began to dream of a world where glasses would be an object of desire.
From the Glitter Years to the Meeting of a Sailor and a Pair of Glasses
By the mid 80s, Mikli colors, amplifies, and invents the camera glasses, the dragonfly glasses, the two-toned lens glasses. Mikli has accessorized fashion shows for Chantal Thomass, Donna Karan, Sonia Rykiel, Jil Sander, Claude Montana, Anne-Marie Berretta. His fans include Elton John, Andy Warhol, Wim Wenders, Samuel Lee Jackson, Jack Nicholson. "If you don't have the physique of a model, you can still wear models' glasses," Mikli stated, in a slogan which has since become iconic.
Gaultier has created costumes for movies by Greenaway, Pedro Almodovar, Luc Besson, Jean Jeunet, and corsets Madonna's body. His fans include Rossy de Palma, Annie Lennox, Arielle Dombasle, Mylène Farmer, Kylie Minogue, Lady Gaga. "If you don't have the physique of a model, you can still wear models' clothes," Gaultier said as he dressed those who are short or overweight, tattooed or pierced.
Meetings are rarely due to coincidence, and Gaultier and Mikli seemed destined to meet…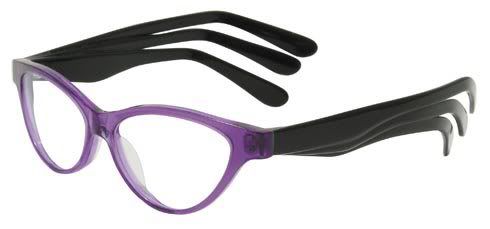 From Engagement to Commitment – Two Iconoclasts United
Gaultier and Mikli constantly surprise, inventing and reinventing, hand in hand in close collaboration delivering the promise of beauty and wonder somewhere between inventiveness, modernity and liberty. Their new eyewear collection consists of 20 models (12 eyeglasses and 8 sunglasses), shaded in three colors. There is no outer logo to the collection yet a familiarity among the models which are best described as unpredictable and dramatic. Imagine: chic, shock, and timeless all at once. These are "frames to see as well as to be seen", with the added benefit of comfort and the technical expertise for which Alain Mikli eyewear is synonymous.
The collection will be available beginning in January 2012 at Alain Mikli boutiques (www.mikli.com) as well as select independent luxury optical retailers nationwide.

About Alain Mikli
Launched by Frenchman Alain Mikli in 1978, the Mikli brand has become synonymous with luxury eyewear worldwide. Alain Mikli combines stylish but comfortable design with unique, high quality materials to create a look that is both practical and very elegant. Today, its stylish frames and sunglasses are worn by A-list celebrities and movie stars such as Samuel L. Jackson and Meryl Streep. Today there are 25 Alain Mikli shops worldwide: Paris, Saint-Germain-en-Laye, New-York, New Jersey, Düsseldorf, Berlin, Helsinki, Hong-Kong, Macau, Tokyo, Osaka, Nagoya, Taipei and Milan and San Francisco. For more information, visit Alain Mikli's website: www.mikli.com