Revolution Eyewear introduces the Beatles Yellow Submarine Eyewear with 10 styles in the collection to choose from. And each frame comes with a custom case depicting images from the Yellow Submarine Movie.
The new technology on the temples is something new to temple application. HDA™ "High Definition Acetate" Technology excels in displaying patterns and graphics more sharply and vividly than ever before. Furthermore, the HDA™ Technology can be combined with creative BMT, "Beautiful Metalic Touch" technique.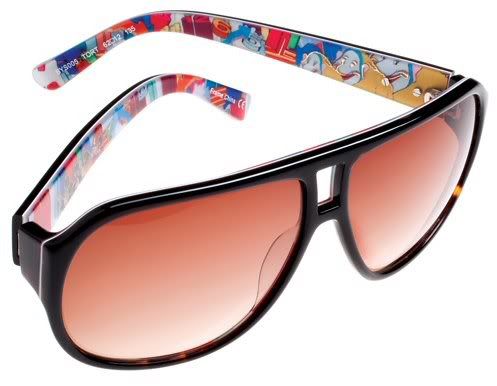 The BMT technique marks one more step forward in overcoming rules and limitations to creativity. BMT, in fact, allows ultra-sharp cutting for all patterns with strong metallic touch, making the realization of any imaginable pattern possible. The BMT can perfectly match with the HDA™ pattern, the main elements of the graphic are clearly defined because of the elegant color-blocking. This extraordinary technology allows the transformation of textures and colors into crisp high definition images, giving eyewear designers an entirely new level of creativity.
"I am so honored to be asked to be involved in this project. All of the pieces of the Yellow Submarine line had to get unanimous acceptance from Apple Corps' board of directors, which includes Paul McCartney, Ringo Starr, Olivia Harrison and Yoko Ono" said Gary Martin, president of Revolution.
There will be a 3 piece display, a vinyl window image and counter cards for P.O.P.